PROJECT CHECK¶
Project or routine task?¶
After the customer has given an order, the work can begin. But how can this be done in a qualified manner? First of all, the question is whether the task is a project [9].
This can be checked with the help of the project check using seven questions: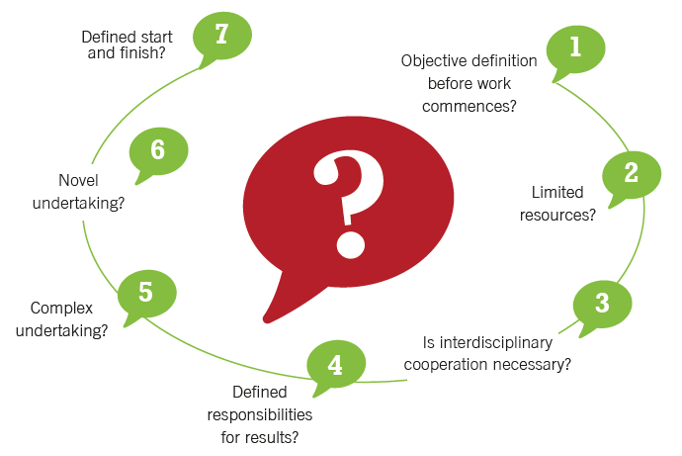 If the answer to every question is "yes"
Very good, then it can be assumed that the new task is a project.
If the answers to some of the questions is "no"
That's not a problem because some aspects of the task can be supported by project management methods.
If most answers were "no"
That's no problem either, in this case the task can be planned as a routine operation.

Write down your own thoughts and the things that have already been said about the following issues.
Is it necessary to define an objective before work commences?
Is there a customer need? Is there a rough idea of the end product?
Are resources limited?
Which supporters, machines, equipment etc. are only available to a limited extent? When will this support be needed? Do other limitations exist?
Is it an interdisciplinary project?
What expertise do the project team members need? Which qualifications should they have? Do they come from different departments, divisions, companies, cultures?
Have responsibilities been defined?
Who is the customer? Who is providing the necessary funding? Can some aspects of the project be grouped or delegated?
Is it a complex project?
Are people working on it at different locations? Do they all speak the same language? Do they understand each other? Are there coordination problems, e.g. because different technical terminology is being used?
Is it a novel kind of project?
Can you use knowledge gained in similar projects? Can some of the work processes be derived from routine activities?
Has the start and finish been defined?
Is there a time limit or a delivery date?