PROJECT CHECK¶
Project or routine task?¶
You've been assigned to a new task and you want to approach it professionally. Obviously, the first question you ask yourself is whether it's a project [1].
This can be assessed by means of the project check by answering seven questions: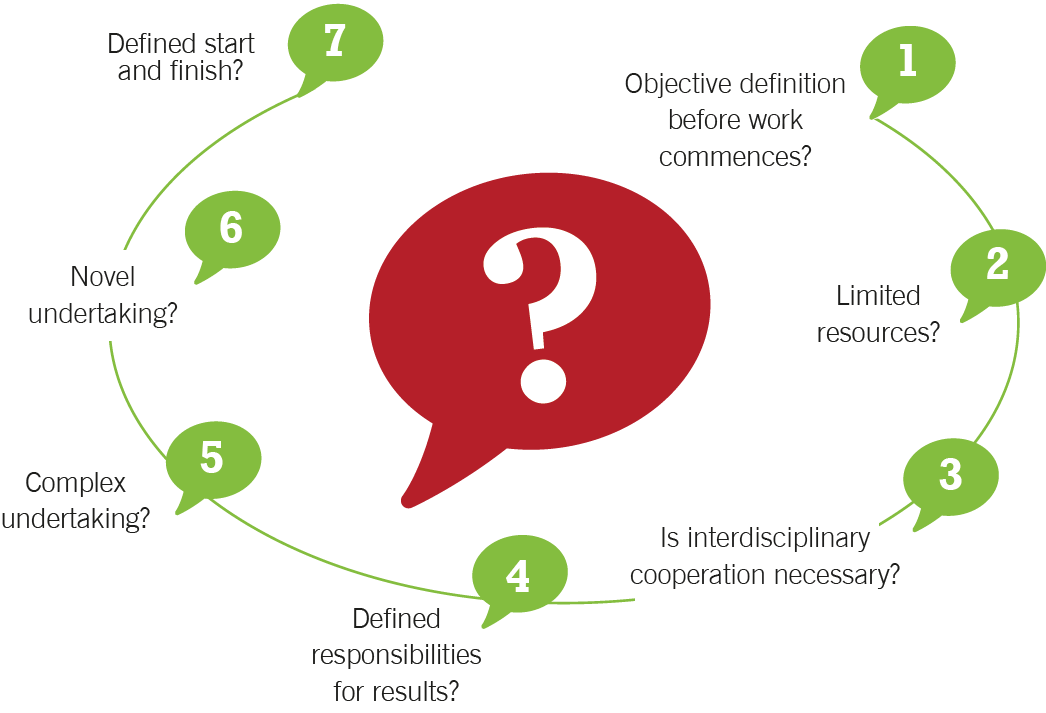 If the answer to every question is "yes",
it can be assumed that the new task is a project.
If the answers to some of the questions is "no",
that's not a problem because some aspects of the task can be supported by project management methods.
If most answers were "no",
it's not a problem either, because the task can then be planned as a routine operation.
Write down your own thoughts and the things that have already been said about the following issues.
Is it necessary to define an objective before work commences?
What will the project deliverable be? How long do you need to deliver it? Are there any time constraints? How much will it cost? Are there any financial constraints?
Are resources limited?
Which human resources, machines, equipment etc. can you only use to a limited extent in the project? When will you need these resources? What do you have to expend in return?
Is it an interdisciplinary project?
What expertise do the project team members need? Which qualifications should they have? Do they come from different departments, divisions, companies, cultures?
Have responsibilities been defined?
Who is the customer? Who is providing the necessary funding? Can some aspects of the project be grouped or delegated in sub-projects or work packages?
Is it a complex project?
Why is the undertaking complex? Are people working on it at different locations? Do they all speak the same language? Do they understand each other? Are there coordination problems, e.g. because different technical terminology is being used?
Is it a novel kind of project?
Can you use knowledge gained in similar projects? Can some of the work processes be derived from routine activities?
Have the start and finish been defined?
When can you start formulating the objectives for a specific project contract? When will you have finished planning the project and setting up the organisational structures? When will the project deliverable be finished? When will you be able to assess how much the project has actually cost? When will you have documented the knowledge gained in the project and made it available to your company?