Chapter 21 - Closing Words¶
Congratulations!¶
You now have completed all chapters which are important to pass the certification. You have mastered the hard skills to run a project properly and the soft skills to lead your team and yourself. Now there is only one thing left: obtaining your own certificate of the International Association of Project Managers (IAPM), to prove your expertise as a project manager and as a team leader - globally recognized and valid for a lifetime.
The certification choice¶
In the traditional field we offer three different certifications:
Certified Junior Project Manager (IAPM),
Certified Project Manager (IAPM) and
Certified Senior Project Manager (IAPM).
The web-learning course you've worked on is the perfect preparation for the Certified Project Manager (IAPM) and the Certified Senior Project Manager (IAPM) exam.
The differences of both? Your experience!¶
To become Certified Senior Project Manager (IAPM) it is required that you have worked on projects for at least five years and at least three of them in a leadership position or a position with staff responsibility. If you are experienced in project management and also have expertise in leading people but aren't sure if it's sufficient - don't worry! During the registration process your experience will be assessed and if it is sufficient, you can take the exam for Certified Senior Project Manager (IAPM). If not, you can take the certification for the Certified Project Manager (IAPM) instead, gain more experience and upgrade your certificate later on.
The certification process¶
Now that you have completed this web-learning course of the IAPM, you are ready to take the self-test. This test is not mandatory, but we strongly recommend to take it, in order to detect lack of knowledge and to get to know the structure of the examination system - both, the structure of the self-test and the exam are identically. Please note that you need to register for the self-test separately. After taking the self-test you'll get feedback from our team, which tells you the chapters needed to be improved. You can look these chapters up in the web-learning platform and study them again in detail.
Before you take the proper certification exam, we recommend to revise all chapters once more.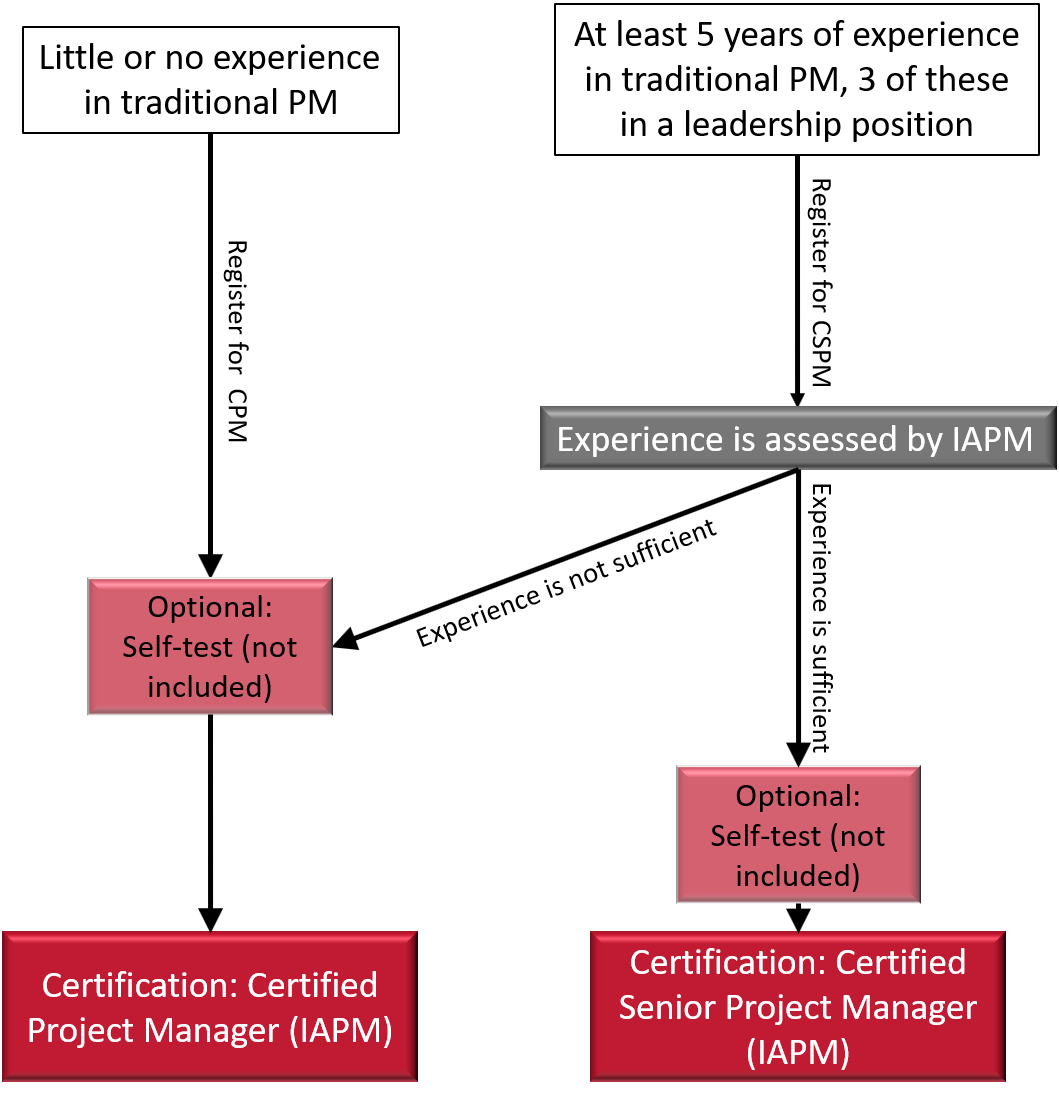 If you liked this web-learning system, you can of course share it with your friends and colleagues!
Afterwards, all that remains is to wish you good luck for the certification examination and success in every undertaking you are planning to do.

Yours sincerely,
International Association of Project Managers